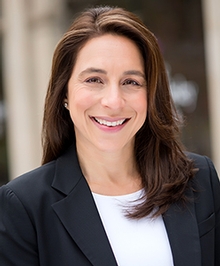 EDUCATION
Fordham University School of Law, J.D., 2000

University of Pennsylvania, B.A., 1997
ADMISSIONS
Commonwealth of Massachusetts

State of New York

State of New Jersey
Jillian B. Hirsch
Founder
CONTACT INFORMATION

V-Card
Jillian Hirsch is the Founder of Hirsch Law. She has extensive experience litigating probate and fiduciary matters at the trial court and appellate level. She passionately advocates for her clients while always providing dedicated, caring, and personal service.
Prior to founding Hirsch Law, Jillian was a Partner in the Boston office of Day Pitney LLP, an East Coast law firm with nearly 300 attorneys in 11 offices. Jillian spent 15 years at Day Pitney representing a broad range of clients at the trial court and appellate level. She focuses her practice on probate and fiduciary litigation, counseling individuals and corporate trustees, beneficiaries and heirs to resolve matters involving trusts, wills, and other estate-related controversies. Because these hotly contested disputes often arise from familial relationships, Jillian makes it a priority to stay highly attuned to the personal and emotionally charged aspects of her cases. Jillian's clients value her balanced approach. They also appreciate the individual attention she affords each and every client to assess their unique needs and determine the best possible avenue to resolution, even if that means choosing not to pursue legal action.
In 2015, Jillian was selected as one of the Lawyers of the Year by Massachusetts Lawyers Weekly for her advocacy in
Pfannenstiehl v. Pfannenstiehl
, a high-profile matter addressing the intersection of trust and divorce law in Massachusetts. The case, which Jillian argued before the Massachusetts Appeals Court and the Supreme Judicial Court, garnered the attention of trusts and estates and family law practitioners nationwide.
More recently, Jillian served on the committee commissioned by the Chief Judge of the Massachusetts Probate & Family Court to establish the Fiduciary Litigation Session, designed exclusively to handle contested probate and fiduciary matters and to provide litigants with a venue to obtain efficient and individualized management of their cases as well as a prompt resolution.
Jillian lives in the suburbs of Boston with her husband and their two sons. She is a member of the Board of Directors of Greater Boston Legal Services and the Board of Directors of Urban Improv.
RECOGNITION
Chosen for inclusion in Massachusetts Super Lawyers, Estate & Trust Litigation, 2022 and 2023
Selected as 2021 "Top Women of the Law" honoree by Massachusetts Lawyers Weekly
Chosen for inclusion in The Best Law Firms, Litigation – Trusts and Estates, 2022 and 2023
Chosen for inclusion in The Best Lawyers in America©, Litigation - Trusts and Estates, 2020-2023
Chosen for inclusion in Chambers HNW Guide (Chambers & Partners) as a leading attorney for private wealth disputes in Massachusetts, 2020-2022
Selected by Massachusetts Lawyers Weekly as one of the Lawyers of the Year, 2015
SPEAKING ENGAGEMENTS
In recognition of Jillian's expertise in the area of fiduciary and probate litigation, she is regularly called upon to speak to institutional professionals, as well as trusts and estates and family law practitioners. Her speaking engagements include:
Panelist, Dispute Resolution, MCLE, 24th Annual Estate Planning Conference, April 28, 2023
Panelist, Fiduciaries' Complaints for Instructions or Declaratory Judgments, Tenth Annual MBA Probate Conference, November 4, 2022
Co-chair, Inheritance, Trusts & Divorce, MCLE, November 14, 2022
Co-chair, Inheritance, Trusts & Divorce, MCLE, October 14, 2021
Co-chair, Inheritance, Trusts & Divorce, MCLE, September 23, 2020
Co-chair, Inheritance, Trusts & Divorce, MCLE, March 24, 2020
Panelist, Accountings, Releases and Indemnification Agreements, MCLE 19th Annual Estate Planning Conference: Fiduciary Litigation Track, March 26, 2018
Co-chair, Inheritance, Trusts & Divorce, MCLE, January 22, 2018
Co-chair, Inheritance, Trusts & Divorce, MCLE, June 12, 2017
Presenter, Discussion of Pfannenstiehl v. Pfannenstiehl, Boston Estate Planning Council, November 15, 2016
Presenter, Discussion of Pfannenstiehl v. Pfannenstiehl, Massachusetts Bar Association, October 6, 2016
Presenter, Discussion of Pfannenstiehl v. Pfannenstiehl, Trusts & Estates Consortium, September 29, 2016
Panelist, Inheritance, Trusts & Divorce, MCLE, June 8, 2016
Presenter, The Massachusetts Uniform Trust Code, Massachusetts Bar Association Third Annual Probate Law Conference, November 13, 2015
Presenter, Conflicts of Interest in Estate Planning and Fiduciary Litigation, November 2015
Presenter, Non-Judicial Settlement Agreements: How to Use this New Tool in Practice, Boston Estate Planning Council, October 20, 2015
Presenter, Decanting Trusts & Wine: A Comparative Analysis, Greater Boston Fiduciary American Inn of Court, June 2015
Presenter, Woodward School for Girls v. City of Quincy, Annual Dinner, Greater Boston Fiduciary American Inn of Court, November 6, 2014
MEMBERSHIPS & AFFILIATIONS
Co-chair of the Fiduciary Litigation Committee of the Trusts & Estates Section of the Boston Bar Association
Greater Boston Fiduciary American Inn of Court
Boston Estate Planning Council
Boston Estate Planning & Probate Forum
Learn More